And now it's time for the East Coast to represent! We're here to offer you a vast array of wonderful prizes to help raise money for the UN World Food Programme as part of Pim's Menu For Hope III. Here's what you do—study this list like you'd study your favorite catalogue (no, not the Victoria's Secret Catalogue, you pervert) and then choose the prize or prizes you like the best. Then do the following:
1. Go to the donation page at http://www.firstgiving.com/menuforhopeIII.
2. Make a donation, each $10 will give you one raffle ticket toward a prize of your choice. Please specify which prize or prizes you'd like in the 'Personal Message' section in the donation form when confirming your donation. Do tell us how many tickets per prize, and please use the prize code -for example, a donation of $50 can be 2 tickets for UW01 and 3 for UW02.
3. If your company matches your charity donation, please remember to check the box and fill in the information so we could claim the corporate match.
4. Please also check the box to allow us to see your email address so that we could contact you in case you win. Your email address will not be shared with anyone.
5. Check back on Chez Pim on January 15 when we announce the result of the raffle.
So that's how you do it and now it's time to see all the East Coast has to offer! Are you ready? I hope you are!
The East Coast Round-Up for Menu For Hope III
UE01: S'kat & The Food, A Signed Copy of The Art of the Palate Cookbook and a similarly-themed mug, spoon, coffee and cookie. "It will be signed by artist Nancy Thomas, chef Sydney Meers (formerly of Cowboy Syd's, now at Stove) and myself. If the prize winner makes a hefty donation, an amount determined arbitrarily by myself, I'll throw in a special bottle of wine as well."
UE02: Paris Breakfasts, Ladurée Chocolate Macarons Watercolor. "On offer, a 9″ x 10 1/2″ original, signed, whimsical 'foodie' watercolor painting from Paris-obsessed artist, Carol Gillott of ParisBreakfasts. Carol paints, photographs, eats and writes about all things Parisian. But chocolate macarons and Ladurée green pastry boxes hold a special place in her heart. She's happy to share her obsession with all like-minded by donating an original watercolor to the 2006 Menu For Hope. Potential value of the painting until Christie's or The Metropolitan Museum discovers her, is $100.00+."
UE03: Megnut, KitchenAid Artisan Series 5-Quart Mixer, Empire Red. Sayeth Meg, "You know it, you love it, the KitchenAid stand mixer. No serious cook should be without its 325 watts of mixing power! The 5-quart bowl with ergonomic handle mixes large batches of dough easily. Its three attachments make it a snap to prepare everything from bread to whipped cream. I can't live without mine in the kitchen, and I don't want you to live without one either."
UE04: Veronica's Test Kitchen, $300 Gift Certificate to the Inn at Little Washington. "Dining at the Inn is pure gastronomic fantasy as course after course is presented more stunning than the last; staying at the Inn is also quite the experience as you take in the sheer opulence and unparalleled service of the place."
UE05: HeatEatReview, a gift box of award-winning artisan cheeses from Oregon's Rogue Creamery. Rogue Creamery's description: "A special selection of award winning, delicious blue and cheddar cheese developed over our legendary 70 year history. 8 oz hand milled, full cream Sharp Cheddar made the same way it was 70 years ago. A 7 oz wedge of our exemplary raw milk Oregon Blue Vein cheese made by hand in the same traditional artisan process since 1957. 8 oz block of our subtle, fragrant Rosemary Cheddar featuring Rosemary harvested from our owner's garden."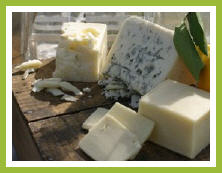 UE06: The Wednesday Chef, A Cooking Date with The Wednesday Chef. Sayeth Luisa, "And what will I be offering up as a prize this year? Well, myself. Not that way! Dirty birdy. If you've always dreamed (or, let's face it, even if you haven't) of joining me in my kitchen while I cook and curse my way through a newspaper recipe, this is your chance! I'm offering up my services as a sous-chef (co-chef?) and dining companion. You get to choose a recipe, from the New York or Los Angeles Times, of course, and we'll cook it and eat together. Our culinary adventures will be, of course, photographed and documented on this site and you'll be the envy of all your blog-reading friends. Or maybe of absolutely no one. But we'll have fun! I promise."
UE07: Chez Madeleine, Spend A Day With Sarah Pearse In Atlanta. "Sarah will share 8 years of food discoveries with you in one day! You'll leave Atlanta having experienced great biscuits, soul food, and new southern cuisine. When you get home, you'll be dying to try the stuff that Atlanta chefs have been cooking up for locals, so you'll leave with a copy of Atlanta Cooks At Home-a collection of recipes from Atlanta's favorite chefs."
UE08, UE09, UE10, UE11, UE12: Foodite, Five Separate $50 Gift Certificates to L'Epicerie. Sayeth Gerald, "L'Epicerie has been my supplier for the molecular gastronomy ingredients that I've been experimenting with including agar agar, sodium alginate/calcium lactate, maltodextrin, soy lecithin, and all the other unpronounceable ingredients that are all the rage in the weird food science movement. If you're not into molecular gastronomy, L'Epicerie also carries fine foods, kitchenware, pastries (including Parisian macarons!), and other hard-to-find pantry ingredients. This prize is limited to US residents."
UE13: Foodite, Five-Course Dinner for 2 at L'Ecole Restaurant in NYC. The meal includes a bottle of wine (sommelier's choice() and will be prepared by the students of The FCI and after dinner a student can take you on a tour of the kitchen. The prize is valid until 12/15/2007.
UE14: Amateur Gourmet, New York In A Box. "I, The Amateur Gourmet, will collect for you the finest that New York has to offer: cheese from Murray's cheese, a chocolate chip cookie from the Levain bakery, an onion bialy from Kossar's, salami from Katz's, smoked fish from Russ & Daughter's, teas and dried goods from Chinatown, and much much more. Not only that, but I will document the creation of this box in a video on my site that will show you all that went into it. It will be shipped overnight and when you get it, your account of getting it and eating it (with pictures, hopefully) will be prominently posted. A perfect prize for anyone who wishes to taste all the foods I write about but who doesn't live anywhere close to New York City!" This prize is limited to non-New Yorkers only.
UE15: Amateur Gourmet, An Amateur Gourmet Lunch At Work. "For those that work in New York City, I, The Amateur Gourmet, will cook for you a gourmet lunch that I will document on my site. Then I will deliver this lunch to you at work, to the delight of all your friends and co-workers. The delivery of this food will also be heavily documented and posted on my site in comic book format, creating an online souvenir of a heavenly meal that you will never forget!" Limited to those who work in NYC only.

UE16: La Tartine Gourmande, Off The Shelf: Cooking From the Pantry by Donna Hay. "A Lovely Collection of Recipes by no other than Donna Hay. A great addition on the cookbook shelf of anyone in love with Clean and Simple, Good-looking Healthy Food."
UE17: Brandon Eats, A Basket Of Southern Treats. "The Gift of Southern Cooking by Edna Lewis and Scott Peacock, stone-ground grits, honey, apple butter, and boiled peanuts, all from Virginia, as well as homemade tea cakes and cheese straws made (by me) from Edna Lewis's recipes. Edna Lewis represents southern cooking at its best and her book is an indispensable guide to all the region has to offer. I've sweetened the pot with a few choice, local ingredients and my own, homemade renditions of classic Southern party fare–just in time for the holidays."
UE18: Serge The Concierge, 'Champagne et Repas Chaud' an Original Pastel from Jean-Pierre Got. "Based in the Bordeaux Region, Jean-Pierre has designed many Wine Labels, Posters and other Wine Related Items. This is a draft of the final poster. It is a one of kind item on Grey Canson Paper (8, 5 by 11, 5 inches) signed by the artist. A friend told me that this type of 'collectible' should be worth $200 to 300.00."
That's all for now! Stay tuned because a few more prizes are forthcoming. Thanks to Pim for putting this all together!
Oh, and in case you want to check out the other prizes: here's Pim's master list. Or, to see them by region:
US West Coast: Becks and Posh
US (the rest): Kalyn's Kitchen
Canada: Cardamom Addict
Europe and UK: Davidlebovitz.com
Latin America: The Cooking Diva
Asia Pacific/Australia/New Zealand: Grab Your Fork